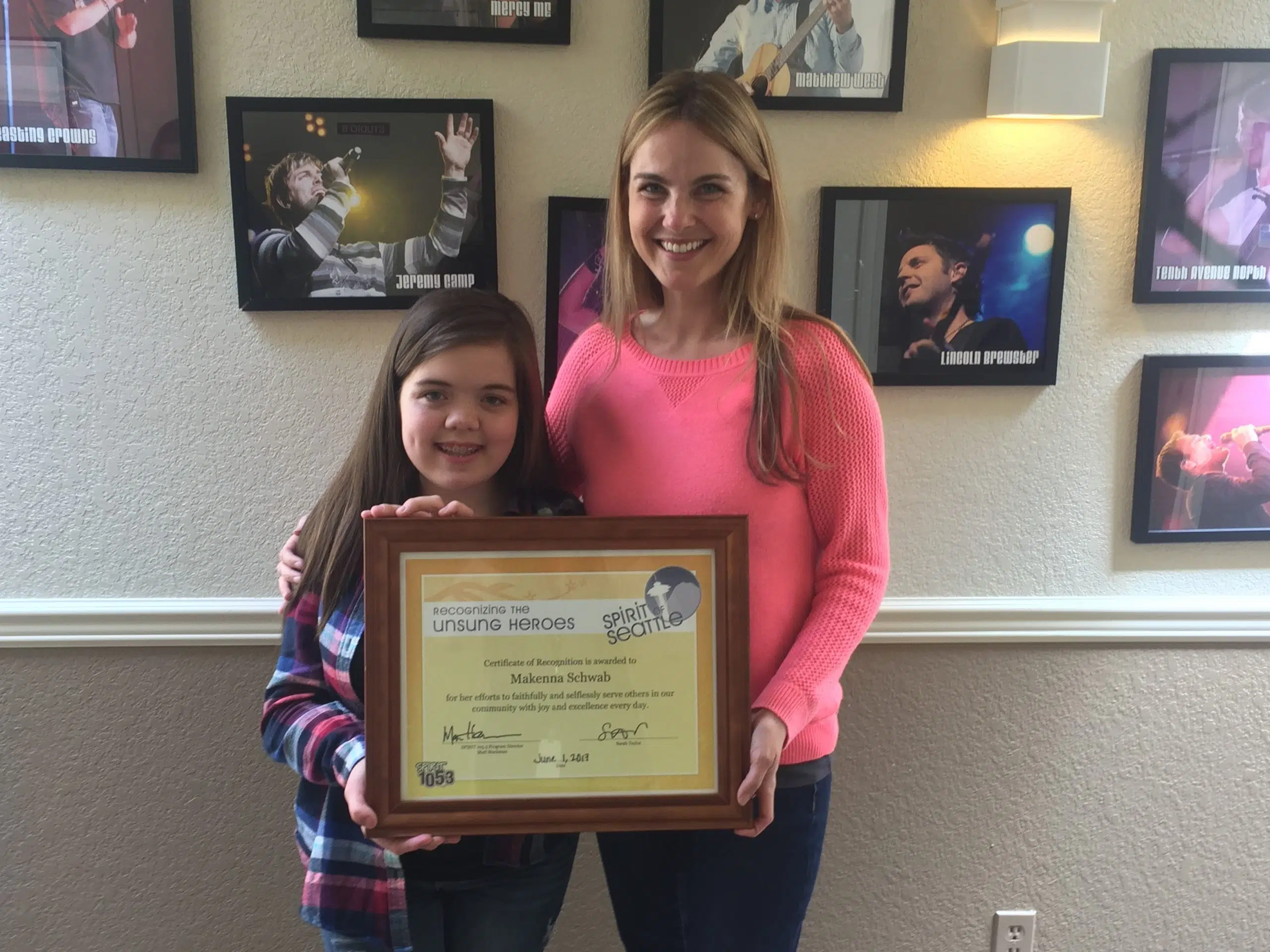 (Seattle, WA)  Fourteen year old, Makenna Schwab, from Wenatchee, WA has been recognized as a SPIRIT 105.3 "Unsung Hero."
Makenna Schwab was born with a rare connective tissue disorder known as Larsen Syndrome, a bone disorder that causes dislocations throughout the body including instability in her spine and trouble breathing. Throughout her life, Makenna has been making frequent trips to Seattle Children's Hospital, a place she considers her second home.
Since Makenna was 8 years old, she has been raising money for the kids at Seattle Children's with a nonprofit she titled, Makspire Foundation. To date she has collected over 2,000 toys, 30 red wagons, and $73,000. Through the Make-A-Wish Foundation Makenna had a wish that Lake Stevens native turned Hollywood actor, Chris Pratt, would help her brainstorm and support her service projects for the hospital. Over the past 18 months Team MakPratt has joined forced to help kids facing medical conditions.
Recently, Chris Pratt started a Crowdrise campaign giving contributors the chance to win a trip to Hawaii to visit him on the set of the next Jurassic World film. This four week campaign raised $822,000 to support the orthopedics department at Seattle Children's Hospital. For more about this campaign or to donate (through 6/01/17) visit: https://www.crowdrise.com/jurassicworld 
With a servant's heart and a passion for others, Makenna is a shining example of the "SPIRIT of Seattle." It's an honor and a privilege to recognize her as one of our "Unsung Heroes."
SPIRIT 105.3's "SPIRIT of Seattle – Unsung Hero" campaign is a program that recognizes individuals for their efforts to faithfully and selflessly serve others in our communities with joy and excellence each and every day. To nominate a deserving individual, visit www.spirit1053.com.
KCMS SPIRIT 105.3 of Seattle, regarded as a leader in Contemporary Christian Music, is owned and operated by CRISTA Media. CRISTA Media also owns and operates KCIS 630 in Seattle, KWPZ PRAISE 106.5 in Bellingham, and KFMK SPIRIT 105.9 in Austin. CRISTA Media is a member of the CRISTA family of ministries.