A few days before Christmas, I got a text from my mom that said "Look at what just happened to precious Karlies house! Thank God everyone is OK"
This tree (which was on the other side of their property and fence) collapsed during the windstorm and took out their master bedroom. My son saw the below photo and said "Mom, did the tree fall on the mattress and all the fluffing came out?!" I smiled and said no and explained what insulation was.
If you've ever had a flood or fire or something like this, you know how many phone calls you start making, and all the details that need to be taken care of. On top of that, imagine still wanting to celebrate Christmas with your family amidst it all.
I texted Karlie and asked how I could help. She said she'd let me know as soon as she took care of details like finding a contractor and a storage unit for their furniture and that's when a lightbulb went on in  my head!
Callbox Storage had already caught the Christmas Spirit by helping out Nikki and Tawny.
I knew Callbox's specialty is taking care of details – they show up at your house, load your items and store it for you, then deliver it back! No asking friends to help you move! No spending hours like Tetris with a storage unit only to find out you don't have enough room.
Even though it was the weekend before Christmas, Callbox Storage agreed to help Karlie out. They scheduled the pick up and her smiling face says it all:
"They took care  of our stuff like it was their own," Karlie told me. "The were so polite and conscientious. HAPPY CUSTOMER!"
When a company goes above and beyond, you take notice. It makes all the difference. Thank you, Callbox Storage!
Oh, and to keep things all in perspective, Karlie posted this photo.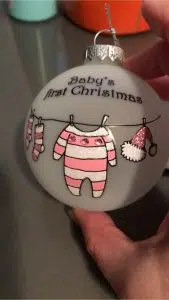 This year, their third grandchild was born 8 weeks early and spent time in the NICU. She is healthy, happy and thriving now!
"All this damage to our house is fixable. This is what I'm celebrating this year!"
Do you know someone who's "Catching the SPIRIT," who's caught the spirit of giving and helping others? It could be a person, a business, a worthy non-profit, a government agency, a friend of yours, it could be you! Your story, may inspire someone else to "Catch the SPIRIT." Let us know about it!