(Seattle, WA) Eight year old, LaMaria, from Seattle, WA has been recognized as a SPIRIT 105.3 "Superstar Kid."
LaMaria is an extroardinary young lady who is passionate about helping the homeless in her community. She makes and sells bracelets to raise money in order to buy snacks, water, and toiletry items. She puts these items together into Blessing Bags and hands them out to anyone in need with a cheerful smile and attitude. After seeing a positive response from others, LaMaria decided to create a ministry called "Mari's Mission". She has many ideas for the future to create a better experience for others.
LaMaria's biggest advice to anyone thinking of helping out in the community is "you can do it!" We are proud to honor LaMaria has a Superstar Kid who exemplifies a compassionate selfless heart.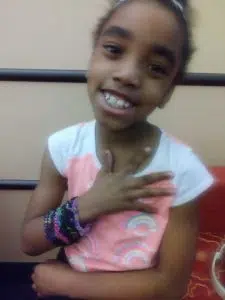 Special thanks to Disney on Ice for helping us recognize Superstar Kids in the community.
SPIRIT 105.3's "SPIRIT of Seattle – "Superstar Kid" campaign is a program that recognizes kids for their efforts to faithfully and selflessly serve others in our communities with joy and excellence each and every day. To nominate a deserving individual, visit https://www.spirit1053.com/super-star-kid/.
KCMS SPIRIT 105.3 of Seattle, regarded as a leader in Contemporary Christian Music, is owned and operated by CRISTA Media. CRISTA Media also owns and operates KCIS 630 in Seattle, KWPZ PRAISE 106.5 in Bellingham, and KFMK SPIRIT 105.9 in Austin. CRISTA Media is a member of the CRISTA family of ministries.
For more information, please contact Madeline Knies
at 206.289.7974 or e-mail madeline@spirit1053.com