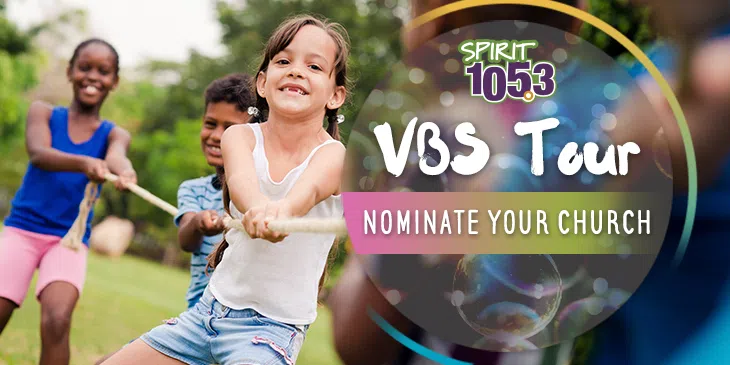 SPIRIT 105.3 is looking to visit various local churches around the Puget Sound. We'd love to visit on a day during your VBS Week and join in on the fun. Nominate your church below
Submit your VBS to be added to the list below to get the word out, and for the chance for the SPIRIT Street Team to visit.
Questions/comments? Email promotions@spirit1053.com
---
What is VBS?
Vacation Bible School is a summer program put on by local churches where kids learn about God's love through bible stories, songs, crafts, and fun activities. VBS's typically last a week long and are during work hours in the summertime.
How will VBS benefit my child?
Your child will not only make friends and have a great time, but they will also be learning about God and biblical principals in a comfortable atmosphere. These teachings will be thoughtfully taught to your child with the hopes that they will be carried into maturity and adulthood. Aside from learning great values, your child will have a blast in this unique and encouraging environment.
Auburn:
June 26-29 | 9am-12pm | Grace Community Church | 1320 Auburn Way S | 253-833-5660
Arlington:
July 16-20 | 6:30pm-8:30pm | Smokey Point Community Church | 17721 Smokey Point Blvd | 360-659-2844
Bellevue:
August 6-10 | 9am-12:30pm | Christ the King Lutheran | 3730 148th Ave SE | 425-442-9720
August 13-17 | 9:30am-12:30pm | Bellevue VBS | 17222 NE 8th St | 425-405-0827
Bothell:
June 25-29 | 9am-12pm | Northlake Christian Church | 19029 North Road | 425-512-2407
July 9-12 | 9am-12:30pm | Eastside Foursquare Church | 14520 100th Ave NE | 206-380-1129
Centralia:
August 6-9 | 5:30pm-8pm | Cooks Hill Community Church | 2400 Cooks Hill Rd | 360-508-9931
Edmonds:
July 9-13 | 9am-12pm | Edgewood Baptist Church | 20406 76th Ave W | 425-776-5104
Eatonville:
July 30-August 3 | 9:30am-12:30pm | Tanwax Country Chapel | 36417 Mountain Hwy E | 253-312-3941
Everett:
July 16-21 | 9am-2:15pm | Cascade View Presbyterian Church | 1030 E Casino Road | 360-435-3743
Federal Way: 
July 9-12 | 9am-12pm | Christian Faith Federal Way | 33645 20th Ave S | 253-943-2400
July 23-27 | 9am-12pm | Journey Church | 701 S 320th | 253-839-6822
Fircrest:
July 23-27 | 9am-12pm | Redeemer Lutheran Church | 1001 Princeton Ave | 253-564-5053
Fox Island:
July 23-27 | 9am-12pm |Fox Island Alliance Church | 655 6th Ave NW | 253-549-2831
Gig Harbor:
June 25-29 | 9am-12pm | Chapel Hill Presbyterian Church | 7700 Skansie Ave | 253-851-7779
Granite Falls:
July 30 – August 3 | 9am-12pm | The Father's House | 402 South Granite Ave | 360-691-5290
Issaquah:
June 25-29 | 9am-12pm | Covenant Presbyterian Church | 22116 SE 51st Pl | 206-552-3187
July 23-27 | 9am-12pm | Living Hope Bible Church | 205 Mountain Park Blvd. SW | 425-587-1232
July 30 – August 3 | 9am-12pm | Issaquah Christian Church | 10328 Issaquah Hobart Road | 425-392-5848
Kent:
July 9-13 | 9:30am-12:30pm | Calvary Chapel South | 1340 W Smith Street | 253-852-7030
July 29-August 2 | 6:15pm-8:35pm | Kent SDA Church | 25213 116th Ave SE | 253-852-3883
Kenmore:
July 8-12 | 5:30pm-8:15pm | Kenmore Community Church | 7504 NE Bothell Way | 425-765-0695
Kirkland:
July 23-27 | 6pm-8:30pm | Kirkland SDA | 6400 108th Ave NE | 425-753-4290
Lakewood:
June 25-29 | 6pm-8pm | New Hope Community Church of the Nazarene | 9308 Meadow Road SW | 253-970-7220
July 9-13 | 9am-12:30pm | First Baptist Lakewood | 5400 112th St SW | 253-307-6342
Lynnwood:
July 16-19 | 7:30am-12:30pm | Maple Park Church | 17620 60th Ave W | 425-743-2288
July 16-19 | 9am-12pm | Gloria Dei Lutheran Church | 3215 Larch Way | 425-776-2444
Maple Valley:
June 25-28 | 6pm-8:30pm | Generational Hope | 26040 SE 216th St | 206-445-2408
Marysville:
July 23-25 | 9am-12pm | Marysville Community Church | Cedarcrest Middle School 6400 99th St NE | 425-330-6798
McChord AFB:
July 16-20 | 9am-11:30am | McChord AFB Chapel | 100 Colonel Joe Jackson Blvd | 253-982-5556
Mountlake Terrace:
July 23-26 | 9:30am-12:30pm | Calvary Fellowship | 23302 56th Ave W | 425-775-3422
Oak Harbor:
July 16-20 | 9am-12pm | Family Bible Church | 2760 Heller St | 360-679-1585
Port Orchard:
June 25-29 | 9am-12pm | Harper Evangelical Free Methodist | 10384 Sedgwick Rd SE | 360-471-2428
July 9-13 | 9am-12:30pm | Christ the Rock Community Church | 4100 SW Old Clifton Rd | 360-674-7000
July 9-13 | 9am-12:10pm | Grace Bible Church | 7070 Bethel Burley Rd | 360-876-3200
July 16-20 | 9am-12pm | New Life South Campus | 8995 SE Sedgwick Rd | 360-633-6565
July 30-August 3 | 9am-12pm | Burley Bible Church | 14687 Olympic Dr | 253-857-6200
August 6-10 | 9am-12pm | First Lutheran Community Church | 2483 Mitchell Rd SE | 360-990-0496
Puyallup:
July 9-13 | 9am-12pm | Sunrise Baptist Church | Sports Camp | 12115 Shaw Road East | 253-848-8910
July 16-19 | 6pm-8:30pm | Lighthouse Christian Church | 3409 23rd St SW | 253-848-2028
Renton:
July 9-13 | 9am-12:30pm | Renton First Methodist Church | 2201 NE 4th St | 425-753-7491
July 9-13 | 9am-12pm | Saint Matthew's Lutheran Church | 1700 Edmonds Ave NE | 425-226-2420
July 16-20 | 5:45pm-8:15pm | St. Stephen the Martyr | 13055 SE 192nd St | 253-631-1940
July 17-19 | 9am-12pm | International Christian Church | 17418 108th Ave SE | 425-891-5803
July 24-27 | 9am-12pm | New Life Church Renton | 15711 152nd Ave SW | 425-466-3482
Roy:
June 25-29 | 9:30am-12:30am | New Beginnings Church of Roy | 104 Lyle St N | 360-485-7170
Seatac:
July 9-13 | 10am-3pm | Angle Lake Neighborhood Church | 18617 42nd Ave S | 206-321-6520
July 23-27 | 10am-12pm | North Seattle Church of Nazarene | 13130 5th Ave NE | 206-769-3025
Seattle:
July 17-20 | 6:30pm-8pm | Faith Tabernacle World Ministries | 5112 S Kenyon St | 206-778-8095
July 23-26 | 1pm-4:30pm | White Center Heights Park | 701 SW 102nd St | 206-536-1688
Shoreline:
July 23-27 | 9:30am-12pm | Evergreen Baptist Church | 19010 Fifth Ave NE | 425-742-5979
July 29 & 30 | 6pm-8:30pm | Calvin Presbyterian Church | 18826 3rd Ave NW | 206-542-6181
Silverdale:
July 9-13 | 9am-12pm | New Life Church | 9923 Poplars Avenue NW | 360-337-1300
Snohomish:
June 25-29 | 9am-12pm | The Church at Maltby/Monroe | 9322 Paradise Lake Road | 425-773-5238
July 9-13 | 9am-12pm | CrossView Church | 604 Ave C East | 360-420-4918
July 9-13 | 9am-12pm | The Church at Monroe | 16910 161st Ave SE | 425-773-5238
July 23-27 | 9:30am-12:30pm | Snohomish Evangelical Free Church | 210 Ave B | 360-348-6999
Sumner:
July 16-19 | 6pm-7:30pm | The Rescue Church | 230 Wood Ave | 253-569-7259
Tacoma:
June 26-30 | 9:30am-3pm | Tacoma First Baptist Church | 1328 S 84th St | 253-753-8310
July 16-20 | 6pm-8:30pm | South Tacoma Assembly of God | 7227 S Puget Sound Ave | 253-474-2020
July 23-26 | 9:30am-12:30p, | Inspiration Bible Church | 3939 N Pearl | 316-204-0031
July 23-27 | 5:55pm-8:30pm | Tacoma Christian Reformed Community Church | 2419 E 72nd St | 255-831-5113
August 6-10 | 10am-12pm | Tacoma Central Church | 1301 South Baltimore Street | 253-752-6637
August 20-24 | 6pm-8:30pm | Iglesia Palabra de Vida/Word of Life Church | 824 East Wright Avenue | 253-365-1627
University Place:
July 9-13 | 5:30pm-8:30pm | CityLights Church | 5000 67th Ave W | 253-565-6500
July 16-20 | 9am-4pm | Sunset Bible Church | University Place at Sunset Primary School | 253-564-7317
Woodinville:
July 9-12 | 9am-12pm | Woodinville Community Church | 17110 140th Ave NE | 425-483-5252