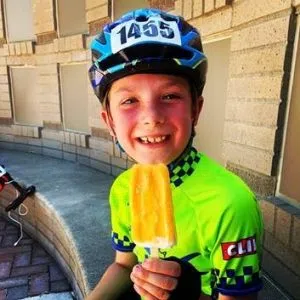 Seattle, WA) 8 year old, Ryder, from Seattle, WA has been recognized as a SPIRIT 105.3 "Superstar Kid."
Ryder comes from a family of avid bicyclists so it's no surprise that when Ryder was just 2 ½ years old, he rode 14 miles on his own tricycle. Now at the age of 8 years old, Ryder has accomplished the amazing feat of completing the annual STP Bike Ride from his own two wheels from Seattle to Portland. He was able to raise over $3,000 to the Fish Food Bank in Gig Harbor and help feed so many people.
Ryder is a great example that no matter your age, you can make a big difference. We are proud to honor him as a Superstar Kid.
Special thanks to Kiel Mortgage and Disney on Ice for helping us recognize Superstar Kids in the community.
SPIRIT 105.3's "SPIRIT of Seattle – "Superstar Kid" campaign is a program that recognizes kids for their efforts to faithfully and selflessly serve others in our communities with joy and excellence each and every day. To nominate a deserving individual, visit https://www.spirit1053.com/super-star-kid/.
KCMS SPIRIT 105.3 of Seattle, regarded as a leader in Contemporary Christian Music, is owned and operated by CRISTA Media. CRISTA Media also owns and operates KCIS 630 in Seattle, KWPZ PRAISE 106.5 in Bellingham, and KFMK SPIRIT 105.9 in Austin. CRISTA Media is a member of the CRISTA family of ministries.
For more information, please contact Madeline Knies
at 206.289.7974 or e-mail madeline@spirit1053.com