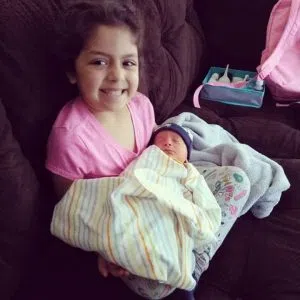 (Seattle, WA)  Six year old, Nina , from Seattle, WA has been recognized as a SPIRIT 105.3 "Superstar Kid."
Nina is described by a family friend as being a feisty, fierce, sassy, smart, kind hearted, loving, and gorgeous young lady. Nina has been separated for 5 months from her mom, dad, and brother while her parents provide full attention to her younger brother at the Seattle Children's Hospital as he goes through chemo. Nina doesn't let this dampen her spirit, she remains a supportive older sister and a bright light during a hard time.
Nina gets up almost every morning at 3am to pray for her brother's full healing. Nina also sings songs for her brother to brighten his day, which her family will record for him to watch when she is away. Sometimes these videos are the only thing that will calm him on a rough day. Their bond is something beautiful and the two siblings bring each other so much joy.
Nina is an absolute treasure and has an unbelievable amount of courage, strength, and love for such a young age. Her selflessness inspires many.
Special thanks to Kiel Mortgage for helping us recognize Superstar Kids in the community.
SPIRIT 105.3's "SPIRIT of Seattle – "Superstar Kid" campaign is a program that recognizes kids for their efforts to faithfully and selflessly serve others in our communities with joy and excellence each and every day. To nominate a deserving individual, visit https://www.spirit1053.com/super-star-kid/.
KCMS SPIRIT 105.3 of Seattle, regarded as a leader in Contemporary Christian Music, is owned and operated by CRISTA Media. CRISTA Media also owns and operates KCIS 630 in Seattle, KWPZ PRAISE 106.5 in Bellingham, and KFMK SPIRIT 105.9 in Austin. CRISTA Media is a member of the CRISTA family of ministries.
For more information, please contact Madeline Knies
at 206.289.7974 or e-mail madeline@spirit1053.com