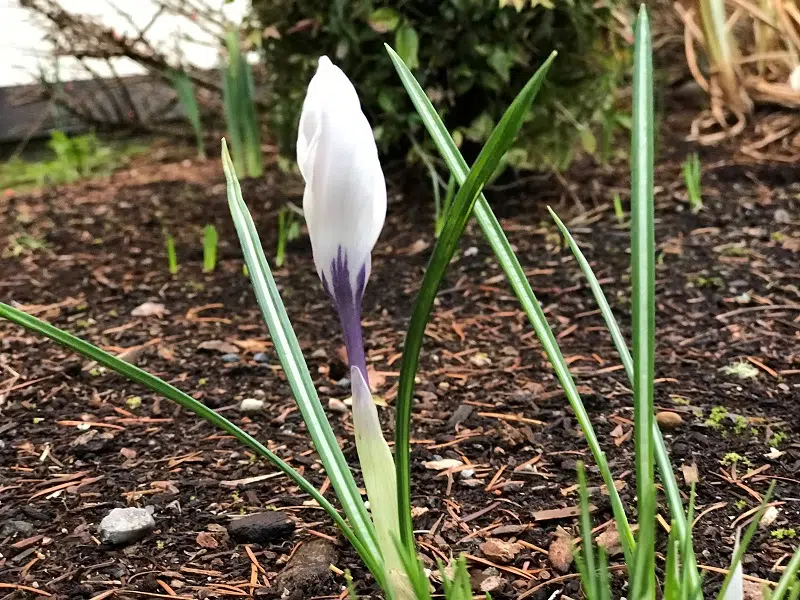 I saw it on my walk yesterday, poking out from the ground. I noticed it because it was alone and it's bright white somewhat startled me against the dirt around it. It caught me by surprise. I bent down with a little smile to look closer.
I started thinking about this little flower. If the flower could think (and for the purposes of my blog today this flower can think. 🙂 ) I wonder if it would feel scared? I wonder if it would question why God wanted him to bloom so early? I wonder if it would feel like it was all alone. Nothing else is blooming around it yet. This poor flower doesn't know what other winter weather might be coming its way. Will the wind pick up, the rain, the cold? And, yet, it stands tall whispering to its friends, "The time is near."
You know what I saw when I crouched down and looked closer? Hope.
This small flower standing tall is a reminder that Spring is coming. It is a reminder that even when the timing may not feel right, Christ may ask us to bloom early (or sometimes later than we'd like). Christ may ask us to stand tall when we feel all alone, when we feel like everyone is watching us with puzzled looks.
Friend, if you are in a winter season, one where you feel God prodding you but the timing feels unusual or the pieces of the puzzle are coming in an order you never expected, I want this flower to encourage you today.  God may be asking  you to provide hope for someone else. Your bloom may give someone that push to persevere when they see you standing tall. Your faith may give someone that reminder  that they are never alone. Your light, bright white petals against the world's darkness may remind people that all isn't lost. Hope is alive.
When you feel like your story doesn't matter, remember this flower, friends. Look to Christ. You never know what story is unfolding and what part you are playing. Today this flower gave me hope and it's just a flower. Imagine what more you can do when you trust in God!
-Rebecca